One of the requirements of being an expat in a foreign country, is opening your mind and eyes to new ideas and learning to adjust. It hasn't always been easy, and I often miss home. But, Abu Dhabi has exposed me to cool things I wouldn't have normally used. Here are a few things I can't live without:
1. The Ample Supply of Art Supply Stores in the City
Abu Dhabi is essentially a big shopping center in the desert made up of an infinite supply of shopping malls. These malls house bookstores, and in Abu Dhabi, most bookstores carry art supplies. This means that with any trip to the mall I can quickly pick up a few canvases (or a lot) and paints to keep this artist happy!
Recently, I also discovered Green Branch, which is a fabulous independent art supply store in the city with walls and walls of materials. I do believe it is the best art supply store in the city. Don't be fooled by its humble accommodations, this place is a gem!
2. A Black Abaya
The black abaya has traditionally been worn in the desert for over a thousand years. Fast forward to 2014, the abaya has since evolved into a fashion-forward, sometimes sexy, often expensive garment for the modern Muslim woman. In the UAE, everyone wears them and for almost any occasion.
I love that I can throw one over my pajamas for a quick errand or two. Or I can jazz it up for an upscale event. It's versatile, elegant, and to be honest, I feel like a princess when I'm wearing it.
3. Burning Bakhoor
I have a feeling bakhoor can be found in every flat and villa in the Emirate. Purfumed wood or "oud" is set on burning charcoals to smoke your home into a decadently smelling abode. It's faster than burning candles, and with the many shops in the city, you can experiment with countless fragrant combinations including rose, frankincense, french perfumes, and more. Lately I've been loving the stronger "Oud" blends which are a favorite amongst the locals. In fact, I have some burning now!
4. Sandals, sandals, and more sandals!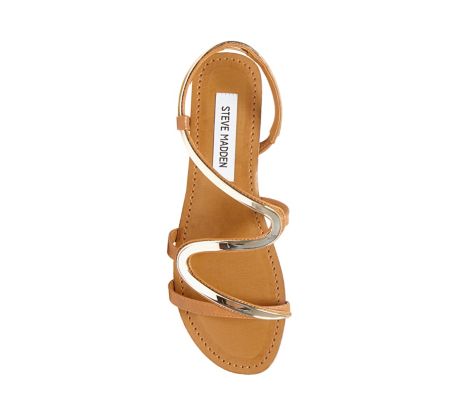 I have to admit, I've never been much of a sandal-wearer. But in this sand-pit, you quickly get over any inhibitions at showing your pretty piggies. The weather is often too hot to wear anything else, and with Steve Madden, Aldo, and other shops being just a drive a way, what more can a girl want? I'm currently rocking these beauties from Steve Madden. BADEN in Gold/Cognac. It's a sexy one.
5. Sunscreen and Sunnies
My absolute favorite sunscreen. I'm pretty much allergic to everything else. This one keeps my face safe from the scorching desert sun. Oh, and yesterday's temp? 113 degrees Fahrenheit. Yea… cover up!
And last but not least, my beloved Ray Bans. Still the sunglass of choice in the Emirate, and an absolute essential with my black abaya and handbag.
What are some of your expat essentials?
Images sourced from Pinterest and Steve Madden